Back to all posts
Posted on
Respiratory Illness COVID-19 Outbreak at Forest Green School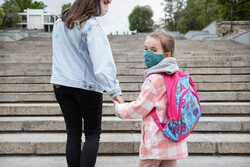 Monday, September 13, 2021 -
Dear Parents/Guardians of Forest Green School,
A greater than 10% absenteeism due to respiratory illness has been confirmed at Forest Green School. This means that our school will now use the Guidance for Respiratory Illness response. COVID-19 has been confirmed in some of the ill individuals. The Medical Officer of Health has declared a respiratory illness outbreak.
As stated in the Guidance for Respiratory Illness Prevention and Management in Schools, if there is a school-wide absence rate of 10% or greater due to illness OR there are an unusual amount of individuals with similar symptoms, we are required to report this data to the AHS Coordinated Early Identification Response (CEIR) team.
If you have any symptoms as listed on the COVID-10 Alberta Health Daily Checklist, please stay home, record your absence with the school in the regular manner and follow instructions in the attached letter from AHS.
Additional Health Measures:
Because AHS has determined Forest Green School to be under a COVID-19 outbreak, Parkland School Division has implemented mandatory masking for all staff and students in Grades 4 - 12 for the duration of the outbreak. Changes are reflected in the Parkland School Division Mask Protocol.
There is no legal requirement for quarantine of close contacts of cases of COVID-19. As a result, AHS is no longer identifying or notifying close contacts of cases of COVID-19. However, as an additional precaution, PSD will notify classes of close contacts provided permission has been granted by the infectious individual or their parent/guardian.  
If staff or students develop symptoms as listed on the Alberta Health Daily Checklist, please isolate at home and complete the AHS COVID-19 Self-Assessment tool or call Health Link at 811 as soon as possible to arrange for COVID-19 testing.
For further information including recommendations to help minimize the spread of any respiratory virus, please read the attached letter.
Respiratory Illness Outbreak - COVID-19 Identified Forest Green
Nealle Dickson, Principal
Forest Green School